...........

ALMOST
BROADWAY!

| | |
| --- | --- |
| | Almost Broadway was my first attempt at directing (if you don't count the school play I did when I was eight!) It was a show comprised of songs from many different musicals (a theme I borrowed upon for the West End, North Cyprus concerts.) Our cast was small but very talented. It included Selen Erkan on the piano, Alp Enuysal on the bass, Zeynep on the flute and Ozgu Bulut, Ebru Berker, Selen, Simin and myself on the vocals. |
| | |
| --- | --- |
| This concert was to be my introduction to a certain composer by the name of Lord (without the royal title back then) Andrew Lloyd Webber. It was during the rehearsals for the show that I first heard such musicals as Jesus Christ Superstar, Starlight Express, etc. It was around this time that I fell in love with musicals. | |
| | |
| --- | --- |
| | It was also during the course of rehearsing for Almost Broadway (and during the Fiddler on the Roof rehearsals, previously) that I entered into some of the best friendships of my life. I feel blessed to call Ozgu, Ebru and Selen my friends and I know personally that Almost Broadway and our little group will always hold a special place in my heart. Come to think of it, most of my handful of true friends in the world are the ones I met while at TED (my highschool in Ankara.) |
I don't have the original information leaflets that were handed on the shows with me here in the US so I can't tell you too much about the actual songs we did (I've forgotten the whole list) but I do remember that we performed the following:

Mr. Mistofelees, Gus, Bustofer Jones, Skimbleshanks and Memory from Cats; The Phantom of The Opera, The Point of No Return and All I Ask Of You from The Phantom of The Opera; Amigos Para Siempre; Close Every Door and Any Dream Will Do from Joseph and the Amazing Technicolor Dreamcoat; Castle On A Cloud and Master Of The House from Les Miserables; I Don't Know How To Love Him and King Herod's Song from Jesus Christ Superstar and others that I can't remember right now.
Whenever I think back and remember the rehearsals, the shows, the friendships, a smile comes to my face; a warm, loving, melancholy little smile.

Almost Broadway will remain as a treasured memory forever.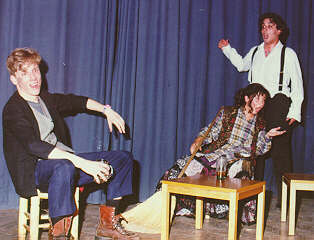 Copyright © 1997 Aral Balkan. All Rights Reserved.